Golden Valley County, North Dakota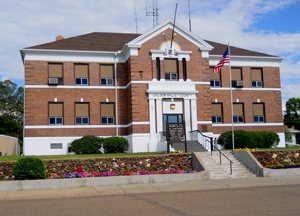 For some, Golden Valley County is merely a point of entry to the State of North Dakota.  Located on the western boundary of North Dakota, our sparsely populated county is not a major destination for residents, tourists or industries – yet.
Growth is coming.  We feel the impacts already through limited housing and land availability, increasing costs and rising pressures on our community services.  Our area is balancing on a thin beam, wavering between uncontrollable growth and slow collapse.  In a united effort, the County and its communities of Beach, Sentinel Butte and Golva are facing this prospect head-on.  We are proactively seeking the right balance that allows us to keep the best of our past and provide the best for our future.
Our residents that call this area home are a spirited, visionary bunch with big dreams.  We enjoy the quality of life that living in small, rural towns offers.  We hope to pass to our children and grandchildren the values we share.  Family.  Civic responsibility.  Community.  These values provide the foundation for all that we wish to achieve through this strategic planning process.
We are a close-knit community where one can rely on his neighbors to lend a helping hand in times of need.  Our county is characterized by quality schools, excellent public services, active volunteers and generous residents.  We are willing and able to commit the time and effort to make our community even better. 
Considered to be the banana belt of North Dakota, we have strong agricultural industry providing a substantial economic base.  Yet we also have the amenities to attract new families and businesses to the area, with aesthetically pleasing downtown facilities, historic buildings, a burgeoning arts and crafts sector and a unique location that provides excellent access to the rest of the world.  By strategically enhancing these assets, we can build on our existing strengths, revitalize the industries we have, and strengthen our economy through growth and diversity.
Communities in western North Dakota have a choice to make:  allow the most recent oil boom to happen to them or with them.  In Golden Valley County, we will be the trendsetter.  Finding the right balance of time-honored family values and progressive economic success is our goal for this process.  Our leaders and volunteers will define the future, capitalizing on this once-in-a-lifetime opportunity to shape our dreams into reality. 
Join us as we take this journey.  Find your balance here in Golden Valley.
©2017 Building Communities, Inc.