Upper Moenkopi Village, Arizona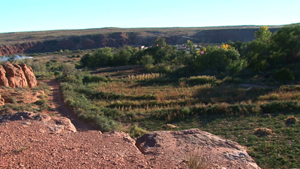 It just takes one glimpse at our community and you know that something is different here. We are Hopi. We are a glimpse back to an era that defined sustainability. We have lived here for over 500 years, and we intend to be here forever. We intend to sustain our families and our way of live for generations to come.
And yet the glimpse you would see has a brand new hotel with all of the modern benefits that travelers seek. We have first class rooms. We have very fine meeting facilities. We have all of the luxuries that you might expect in any modern city. Our lobby feels like a museum.
Yet, with all of our surprises, we participated in this strategic plan to ensure that we are on the right path: a path that honors our past while giving our next generations a chance to prosper.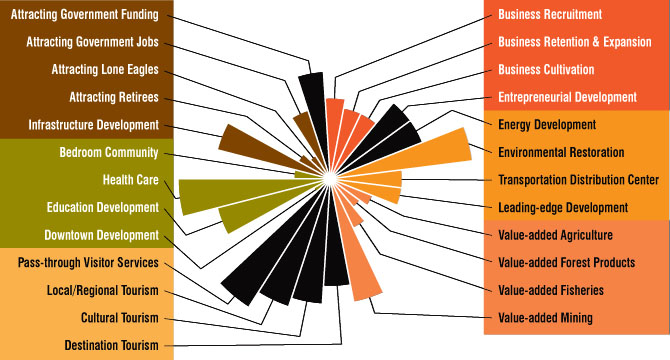 The above "Selected Strategies Wheel" shows the strategies selected by Upper Moenkopi Village, organized into strategy categories. Spokes colored in black indicate selected stratgegies. The length of the spokes, extending from the center of the wheel, indicate their respective strategy's potential for successful implemenation, as determined using the
Key Success Factor Analysis
.
Three years ago we formed a development corporation to build our dream: not only a new hotel from which people would "Experience Hopi," but a complete master plan of commercial and residential development that would serve our people and honor our roots.
This strategic plan serves to validate our dream. This plan frames our projects in a way that sets a long-term direction for Upper Moenkopi Village. We now know we are on the right course. Our past investment will be successful and our future development is on course.
We intend to reference this strategic plan on a regular basis as we move forward. We look forward to completing all of the action steps, and to build our sustainable future. Our glimpse of our future is a very bright one.
©2017 Building Communities, Inc.