St Johns, Arizona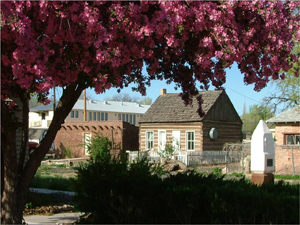 St. Johns, Arizona is a community that is overcoming the odds. It is not blessed with many of the amenities that make life easy. Because of this, the people who live in this community of 3840 truly choose to live there. The result is a population of extraordinary men and women who love their community and regard each other as neighbors.
In a world where it is difficult to find people willing to work, St. Johns is filled with people working in difficult blue collar jobs in the agriculture and energy fields. The work ethic is strong, and the desire to see their town grow and prosper is even stronger.
This strategic plan represents a potential new and positive era for the town. While the essential ingredients for community growth and development are in place—land, labor and capital—St. Johns has experienced the same trend as many rural communities: population stagnation and disinvestment.
The hard-working people who build and support strong families are now ready to invest that same drive and energy into the future of the community itself. This strategic plan sets the stage for a new era, one that will build new partnerships and organizations dedicated to the betterment of the next generation of residents.
St. Johns has a strong base with which to work. In addition to the quality of its people, two nearby large-scale electrical generating stations provide good, well-paying jobs. Significant anticipated employee staffing retirements from these plants promise a future in which a new generation of workers will join the community while the retirees can focus their time on family and civic improvement. A promising value-added mining operation based on very large potash deposits could significantly fuel investment in the commercial and residential sectors.
The community invites new people, new businesses, and a renewed commitment to make the 21st century a proud era for St. Johns.
This strategic planning project is an unprecedented regional collaboration that includes the incorporated cities and towns in Apache and Navajo Counties (Arizona) and three Tribal Nations— Navajo Nation, Apache Nation and Hopi Nation.
The planning effort is being coordinated by Economic Development for Apache County (EDAC), a non-profit community development corporation. Apache County, a recipient of a Sustainable Communities Regional Planning Grant Program through the Department of Housing and Urban Development's (HUD) Office of Sustainable Housing and Communities (OSHC), is the fiscal agent for the planning grant that supported all of the planning initiatives in this regional collaboration. EDAC contracted with Building Communities, Inc. to guide and facilitate individual participants through the planning process.
©2017 Building Communities, Inc.