Blytheville, Arkansas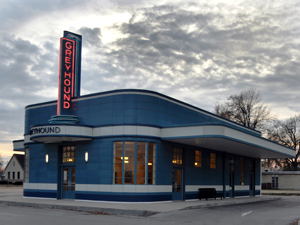 Potential. A word full of hope, but no guarantees of success. Winston Churchill said that it takes "continuous effort" to unlock the potential in each of us. This is true for individuals, and also meaningful for communities.
Over the past few decades, Blytheville has gone in many different directions, twisting and turning reactively to external and internal challenges. It is time for us to choose. Do we want to move forward as one, proactively defining our future and continuously striving toward a common goal? Or, do we want to stay reactive and splintered, constantly struggling to find a foothold?
To us, the answer is clear. Our population has declined year after year, even while our job picture is strong.  We've have experienced many tribulations that have been difficult to overcome, and still which affect us today. Our community has had every reason to fail, yet we persevere, realizing success on many fronts.  Imagine what we can do if we all work together.
This strategic plan embodies that exciting possibility. The time is right for us to rally as one community,
bound by our faith in each other and in our hometown of Blytheville. This is a tremendous place, and we
know we can make it even better. We cannot wait any longer – the future of our community depends on
what we all do today.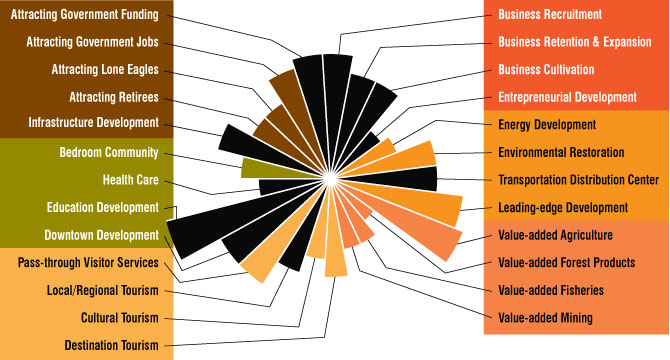 The above "Selected Strategies Wheel" shows the strategies selected by Blytheville, organized into strategy categories. Spokes colored in black indicate selected stratgegies. The length of the spokes, extending from the center of the wheel, indicate their respective strategy's potential for successful implemenation, as determined using the
Key Success Factor Analysis
.
Our plan takes a two-pronged approach. On one hand, we look at the economic development strategies
that will provide more and better jobs for our residents. On the other, we know there is more to life than work, which is why quality-of-life initiatives are a large area of focus. Both are necessary to achieve the goals and dreams we have for Blytheville: population growth that is meaningful; increased community pride; stronger relationships among neighbors; better jobs for our citizens; quality education for our children; health care that meets all of our needs; and safety on our streets and in our homes.
Our potential knows no boundaries, if we are united. We will not always agree on the best course of action, and hard decisions will need to be made. However, we are all a part of something grander – a community that we call home. This is our chance to realize the potential that we know we have. Let's realize it together.
©2017 Building Communities, Inc.